Dish washer ㅣ Rack conveyer type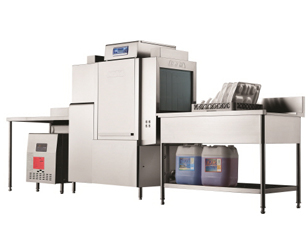 Rack conveyer type Series
An European model that could wash at once a large amount of dishes in a small space, is the most popular and representative model of SJM in the overseas market, as widely praised and used in such entities as hospitals, hotels, public offices, or businesses.

Having considered the users' convenience, the balance of the weight of 'one-touch' control panel door and the spring tensile strength is perfected to maintain clean washing water. The filter of the 1st washing tank and of the 2nd suction filter, keep washing water clean. The use dosage reduction effect of hot water, detergent, and conditioner is superb since washing water and rinsing water is operated only when rack is passed through.
Description

The embedded LCD that carries a self-diagnosis, not only indicates a washing mode and operation status but also results in less labor cost and user convenience by realizing high-efficiency and low-cost.

The PCB, an originally-developed program by SJM, is a superb medium that connects a cutting-edge technology and users.

With a double performing capacity of a rinsing motor compared to that of competitors' pump, it can control an appropriate pressure for an optimal rinsing ability.

The rinsing economizer prevents a useless consumption of detergent and rinsing water by detecting a moment to inject rinsing water.

Attached on a conveyer motor, a safety switch for proximity protects the motor from the motor load of conveyers due to a rack clogging when ejected.